How to get here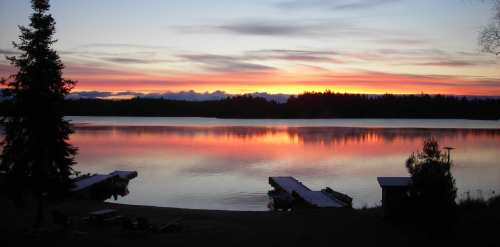 After crossing the bridge into Canada at International Falls MN, take Highway 11 east for 20 miles, turn left onto highway 502 and go 25 miles, turn left at the Cedar Narrows Road (gravel) and go
29 KM
, turn left at the Esox Landing sign and go approximately 1 mile to the "T" then turn right to Esox Lake landing.
When boating in, the ride will be approx. 20 miles.
We have maps of the Manitou for sale at the Lodge also. If you would like to purchase one ahead of your trip contact us and we will mail one out.

Click
"Here"
to view large lake map.
Click
"Here"
to view Google Map of the Manitou with Lake directions
GPS Coordinates to remember
North 49 degrees 16.132...West 93 degrees 02.913 - Our Dock at Barker Bay
North 49 degrees 05.673...West 93 degrees 16.297 - Rock Hazard in Esox Lake
North 49 degrees 07.352...West 93 degrees 15.454 - Rocky Channel from Esox Lake into the Manitou Stretch