Fantastic Fishing
at
Barker Bay Resort & Outposts!
Click here to check out our facebook page
Barker Bay Resort on Scenic Lower Manitou Lake is 20 miles by boat from Esox Landing or 50 air miles from Fort Frances which is located on the Ontario/Minnesota border at International Falls. Charter Flight service is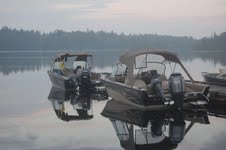 available, contact us for more information. The waterway consists of Esox Lake, the Manitou Stretch, Lower Manitou Lake, the Manitou Straits and Upper Manitou Lake which together is over 32,000 acres. The crystal clear waters can reach depths up to 300 feet. The rocky shoreline, numerous islands and many bays give great structure for fishing and also offers shelter whether it is windy or calm. With this variety of waters it consistently produces above average catches of LAKE TROUT, SMALL MOUTH BASS, NORTHERNS and those MANITOU MONSTER MUSKIES!

Click "Here" for a large map view of Lower Manitou.
Click "Here" for a Google Map of the Manitou

Licenses - All licenses and bait need to be purchased prior to arriving at the resort.
Non-residents 18 years of age and over must purchase a license, those under 18 may fish without a license if accompanied by an adult who has a fishing license. Any fish caught are part of the catch and possession limit of the adult who holds the license. Or you may purchase a license for the child and they will have the same catch and possession limits as an adult. You can now purchase your licenses online as well as buy them in person.
Click "Here" to purchase license online

Click "Here" for Fishing Photos 2010 - 2012
Click "Here" for Fishing Photos 2013 - 2018
Click "Here" for Ontario Fishing Regulations
Click
"Here"
for Information on Non-Canadian Resident Outdoors Card Requirement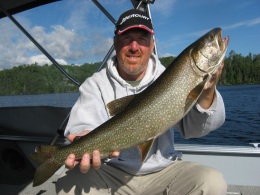 LAKE TROUT:
Spring, Summer, Fall or Winter you can catch Trout at Barker Bay. The clear waters of the Manitou allow you the joy of seeing your fish before you can reach it with your net. Average sizes are from 4 to 9 pounds, however every year guests come in with photos of 20+ pounders! May finds them near the surface, by June in fairly shallow water early in the month, but will move deeper as the water temperatures warm.
July and August find them deep. In September they start moving into shallow water again, the season closes September 30th and opens again on January 1st. Winter ice fishing offers another thrill altogether through the ice.

Suggested Tackle - 8 to 20 lb. test line with 20 to 50 lb. steel leaders, Spoons, Little Cleo's (silver & blue), MEPPS #4-#5 (whitetails), Skirted lead head jigs, MEPPS Cyclops, Rapala #7 Tail Dancer/Silver, #12 Deep down Husky Jerk/Silver and Silver/Blue, Sutton spoons and hammered copper.White Tube Jigs.
MANITOU MONSTER MUSKIES:
There are numerous bays, 20 ft deep weed beds teeming with baitfish, occasional stained bays that have healthy Northern Pike and Small Mouth Bass populations. These structural elements allow the Manitou to have fine season-long fishing with 50+ inch fish caught from June through October. We promote "catch and release" in order to continue to sustain and reproduce these Monster Muskies.

Suggested Tackle - 30 lb. or heavier test line with 30-50 lb. steel leaders, Big Bucktails, Believers, MEPPS #5 and all in between up to the Giant Killers, Bull Dawgs, Suicks, Rapalas, Cowgirls or just about anything in your tackle box.

Muskie book author George Sandell caught his Lifetime Largest Fish (54.5") from the Manitou and Len Hartman dedicated a special chapter of his book to the Manitou. His Lifetime Largest Fish (50.5 lbs.) was caught in Barker Bay. Several Barker Bay visitors have caught their Lifetime Largest Fish here. Shouldn't you be next?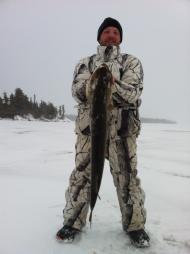 NORTHERN PIKE:
With the Canadian Jackfish, it's not uncommon to bring in the large fighters. These clear, cold waters produce fish that are fast and furious when you hook one and give you a great fishing experience. They range in depths of 10 to 15 feet in the spring to mid-summer. Once the waters start to warm they can be found down around 30 to 35 feet.

Suggested Tackle - 10 to 17 lb. test line with 20-50 lb. steel leaders, Rapalas like #8 Shad Rap in Crawdad, Deep Divers (15ft or more) Spoons such as Daredevils or Little Cleo's, MEPPS spinners #3, #4 and #5.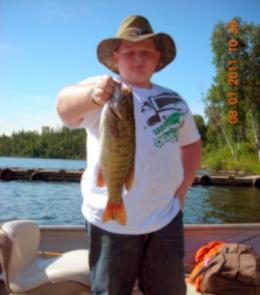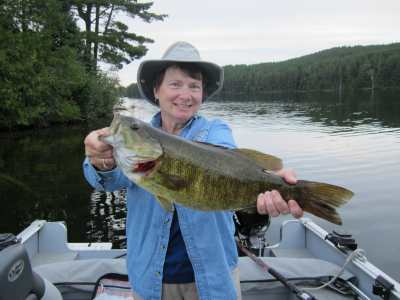 SMALL MOUTH BASS:
These fighters average 1 to 2 pounds and can give you a good run for your money. As stated by Outdoor News, The Sunset Country region of Northwest Ontario has the best Small Mouth Bass fishing in the world. They lay waiting along the rugged boulder shorelines, rocky reefs and points.

Suggested Tackle - 4 to 10 lb. test line, MEPPS spinners #3, #4 and #5, 3/8 oz jigs w/twister tails (white, yellow, chartreuse and purple), beetle spinners, #5 or #7 Jointed Shad Raps (red crawdad or crawdad) or Rattletraps and Top water plugs (crayfish or minnow colored)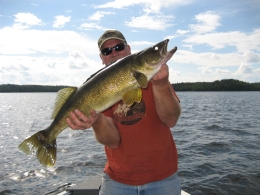 WALLEYE:
Though the Manitou is not a Walleye lake, there is a bay that does have some walleyes, this
32 1/2 inch
walleye was caught and released in 2010. Day trips there and to some side lakes for Walleyes can be arranged on request.
BOATS AND MOTORS:

We have two Lund 17-foot Outfitters with 50 HP electric start Honda 4 stroke motors and two 18-foot Crestliner Canadians with 50 HP electric start Yamaha 4 stroke motors. These are equipped with bow mounted trolling motors, graphs, live wells, padded swivel seats and electric trim/tilt. All boats are equipped with landing nets, paddles and life vests, however you may want to bring your own life vest to ensure a proper fit.

| | |
| --- | --- |
| | |
ADDITIONAL SERVICES:
Guide service is available. Your experienced guide will help make sure your day of fishing is enjoyable and successful. They will take you to the areas that are producing the fish you prefer. As an American Plan Guest a special treat will be the traditional Canadian Shore Lunc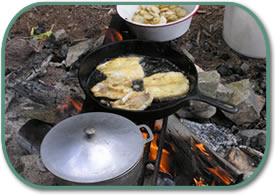 h that your guide will prepare after a busy morning on the lake. Guides must be requested when you make your reservation.
Gasoline and oil are available for purchase and there is electricity (No charge) at the dock.
We have a fish-cleaning shack and fish cleaning and freezer services.
There is a wood fired sauna and we have great camp fires by the lake.