Manitou Weather Station is the proud new owner of Barker Bay!
We hope to continue the great legacy of all the previous owners and are looking forward to running Barker Bay starting this winter.
If you would like to inquire about booking a trip or ask us any questions, please contact us my email, phone or send us a Facebook message.
barkerbayresort@gmail.com
1-866-561-5672
Find Us on Facebook

Learn more about us:
Manitou Weather Station Website
Welcome to Barker Bay Resort & Outposts!
Lower Manitou Lake, NW Ontario
A Boat-In or Fly-In Lodge
Your hosts Wayne & Robin Soderlund welcome you to their Canadian Wilderness Lodge and invite you to experience the beautiful and extraordinary "Manitou". At Barker Bay Resort & Outposts it is our intent to provide you with an enjoyable stay while offering the unique opportunity to explore the Manitou Lake region. We are located in the middle of the Manitou system, which is a pristine waterway and wilderness region with abundant wildlife and is an incredible fishery with Lake Trout, Small Mouth Bass, Northern Pike and Muskie. We often see Black Bear, Moose, Whitetail Deer, Timber Wolves and Lynx. We have gone green using solar, wind and a back up generator for 24 hour power and take pride in our unspoiled wilderness. For those of you who need to stay in touch, we do have wireless internet.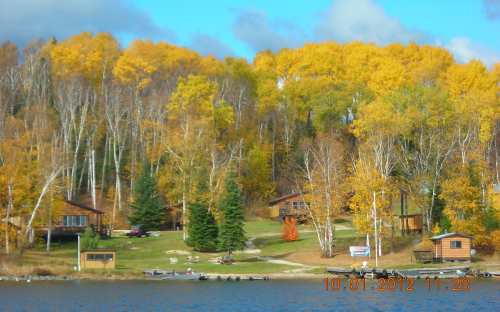 Introducing our Ranger Bay Outpost cabins!

We purchased 2 cabins about 5 miles from the main camp and they are available to rent! They both have all the amenities like full kitchens, 24 hr power, indoor toilet/shower, screen porch and a great view up the lake! Photos below.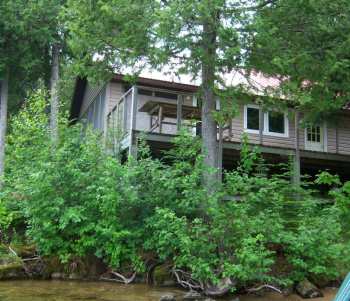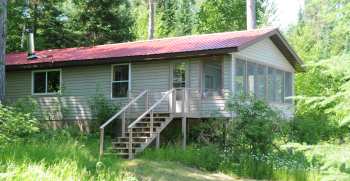 Click here to check out our Facebook page
Watch for photos, updates and news from Barker Bay Resort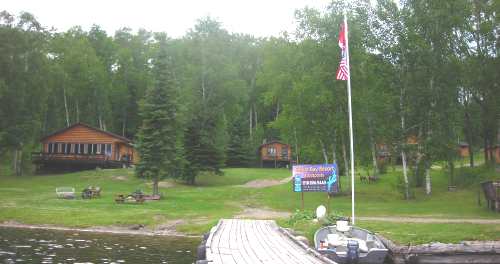 Hundreds of islands and bays provide you with all the rocky shorelines, secluded weed-beds, deep holes and submerged reefs needed to pursue the Lake Trout, Small Mouth Bass, Northern and Manitou Monster Muskies that are so abundant in our lake. With over 32,000 acres to fish on crystal clear waters with depths that reach up to 300 feet, this will make the ideal fishing vacation. We have access to Walleyes on some remote lakes and a day trip can be arranged. In winter the snowmobiling is excellent and winter fishing can't be beat. If you are looking for a hunting trip we offer exceptional Black Bear and Grouse hunts.